One of the most popular topics to talk about these days is travel and its sub-topics. There are a lot of people who refer to travel sites to find out where to go for their next vacation and how to find the best vacation deals, so as long as you position your site the right way, there is no reason you can't build a killer travel related website. Whether you want to be more active and travel around the world and blog about it or just talk about travel deals from the comfort of your home, a well planned travel site can help you make a living online.
Thanks to WordPress travel themes, you won't have to do too much work to get your feet wet in this niche. Building a sophisticated travel site from scratch could cost you thousands of dollars, but if you have WordPress and a good travel theme at hand, you can go for.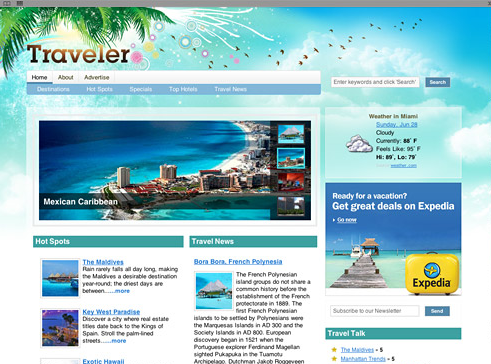 Traveler is a well designed WordPress theme that lets you take your travel site online fast. The theme is very colorful and great at handling your images, which you will need to use to build up your travel portal. The theme comes with a cool image slider that you can use to display images of those tropical vacation spots on your portal.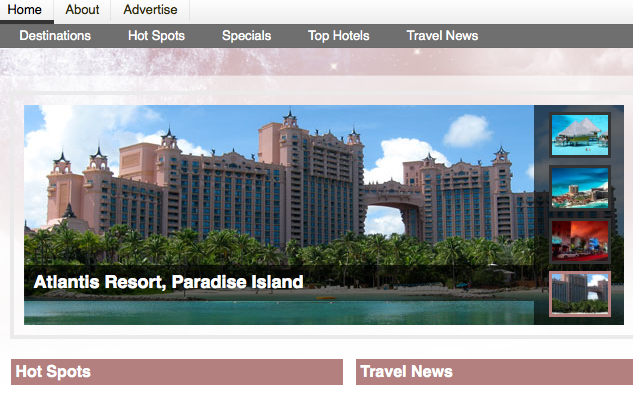 Traveler comes with 5 color scheme that help you customize the look and feel of your website and build a website that better targets your audience:
Caribbean Blue
Tropical Storm
Purple Sky
Red Sunset
Forest Green
The theme is ad ready as well, so you can partner up with sites such as Experida and Travelocity to monetize your portal easily. It really comes down to the type of content you want to display on your portal.
All in all, if you are looking for a fast way to start your travel portal fast, Traveler is a colorful, dynamic travel theme to get started with. You can always customize it to your liking and add your content easily. It's affordable and gets the job done.