MediaTricks has just released the smart Viva7 magazine WordPress Theme today. I thought it'd be in order to put down my early thoughts on this great looking theme.
Viva7 which is dubbed as the "first smart WordPress theme" comes with integrated versions of Viva ZOOM, VIVA CAROUSEL POSTS & VIVA CAROUSEL GALLERY along with new Viva Plugins – Viva Videos and Viva Events. We did have a piece on VIVA Carousel a few days back, but the other plugins are also premium plugins that have been included with Viva7 WordPress template.
One thing that I like very much about this theme is the ability to change things without writing too much code. For instance, if you have a bunch of posts that come with images, you can upload your images just you would normally do with other themes and let Viva7 take care of the rest. Basically, Viva7 grabs the images from your directory and displays them in the Carousel and the gallery. It's pretty amazing! You can do everything here with custom fields, but there are not enough good tutorials on custom fields yet, and you can't expect to get this done as you would cheaply with this theme.
Customize!:
The theme also comes with a bunch of headers and options that you can use to customize your wordpress theme. Take a look here. But here is what blew me away: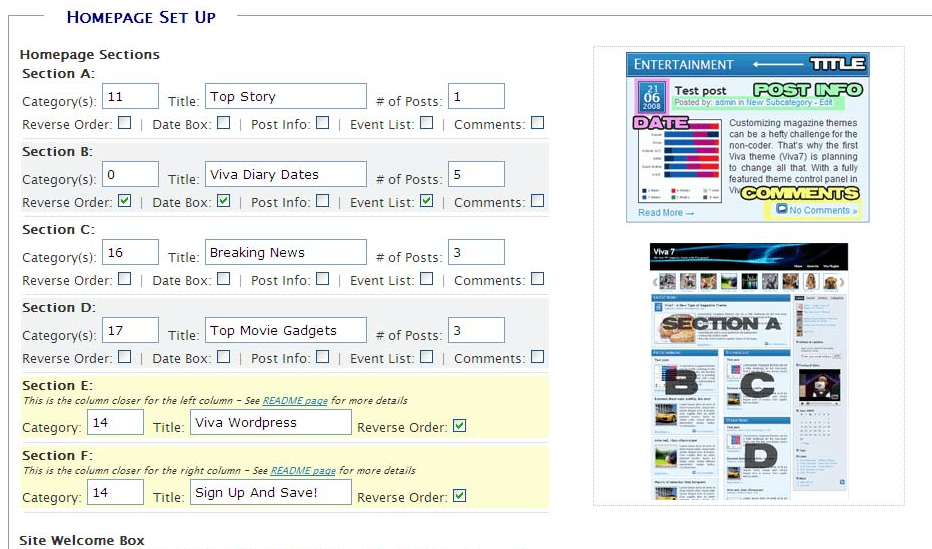 The ability to have real site spots like more expensive enterprise CMS solutions such as Interwoven. Basically you can modify the spots on your page from the WordPress Dashboard easily. If you do any kind of Taguchi multivariate testing for your website, this is just an amazing addition.
Search Engine Friendly:
One of the issues with most WordPress themes is that you have to go and download a bunch of plugins to make them search engine friendly. You can have the best WordPress theme in your hand, but it won't mater if you don't get enough eyeballs on it. Well, Viva7 surprised me with their integrated WordPress SEO optimization feature. You can define automated tags for your pages, posts, and everything else, and just set it and forget it. I'd say it's pretty awesome.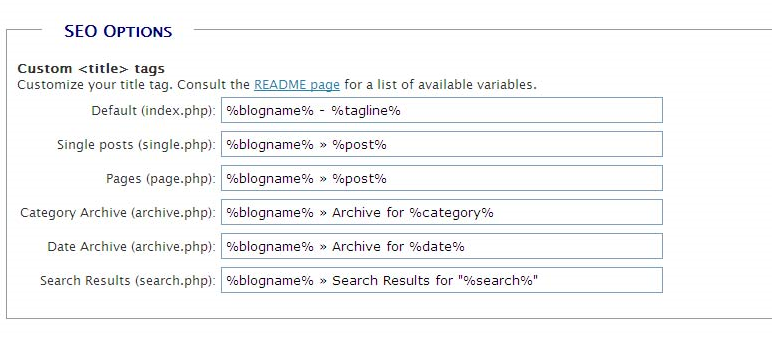 Caveats:
No wordpress theme is perfect, and Viva7 is no exception. You get a very attractive smart WordPress theme that does almost everything for you. But if you don't like the design available, you pretty much have to do a redesign yourself. So for those of us that are picky about our own designs, then this might not work. But for 99.99% of bloggers, the design features offered are more than enough.
The Carousel and the gallery features are great and the fact that things get done automatically is awesome. However, we were not able to get external images to show up automatically in the gallery. You can download the images, and upload them to WordPress and things will work fine. However, it would be great to have the ability to point to an external image and have it show up in the gallery.
Viva7 is a great WordPress theme with customization features that I have not seen in any other WordPress template. It's search engine friendly and cheap. If you are looking for a magazine style WordPress theme, then you should definitely give Viva7 a try. Here is how the pricing works:
Verdict: 4.5 out of 5 stars