Have you ever wondered about runnings some of the cool free PHP scripts that are out there on your blog? I have. The PHP community is just wonderful. Folks contribute code left and right to help push the Open Source movement forward. But if you try to run PHP codes on your WordPress plug-in without making changes to the underlying code, you are out of luck.
Thankfully, the good folks at RunPHP have developed THE plugin for running PHP scripts on your WordPress blog. All you have to do is download RunPHP and enable it on your blog. You can then choose to Run PHP per post or page. You can choose who has the right to run PHP scripts on your blog.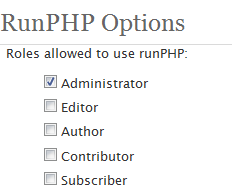 runPHP widget then shows up under each post/page that you want to run PHP code on. If you have the right access level, you can just put the code down, and bam. Your WordPress blog can now run almost any script that is out there.

A Word of Caution: RunPHP is a very powerful script but can also compromise your blog's security. If your blog is hacked, god knows what can be implemented on your blog. Having said that, if you have secure scripts that you want to run on your WordPress blog, now you can.