Have you ever wondered how some people keep posting to their blogs each and everyday without getting overwhelmed by the amount of work that is needed to keep multiple blogs up-to-date. For a long time, I wondered about the very same fact, and I always thought that there got to be a WordPress plugin/script out there that could help automate the process. I got to admit that I have tried many free scripts and plugins but none has come close to Autoblogged as far as the features and flexibility offered by this plugin. Not only can you import your RSS feeds to your blog, you can also take advantage of the template provided to make each and every post unique. What does this mean for your WordPress blog? Simple. If you have enough combination of words and phrases in your template, you can make your blog look as if it's being updated personally by you each and everyday (For me that was a big deal as I did not want my readers to know that I am actually taking time off).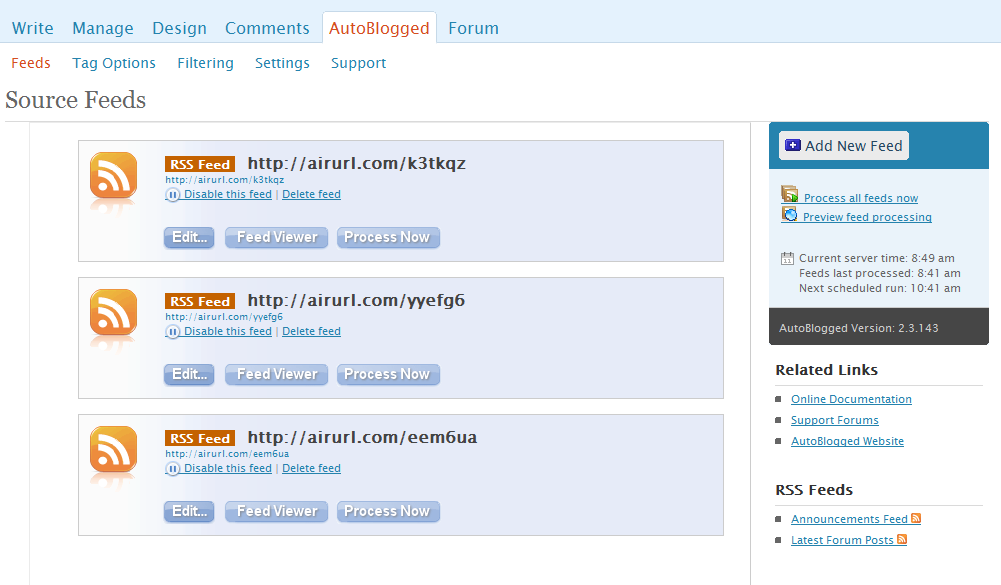 So here is how autoblogged work. You can add your feeds individually to your Autoblogging center through WordPress Dashboard. You then get a chance to define how the tags are going to work out for your feed and what category you want your posts to show up under.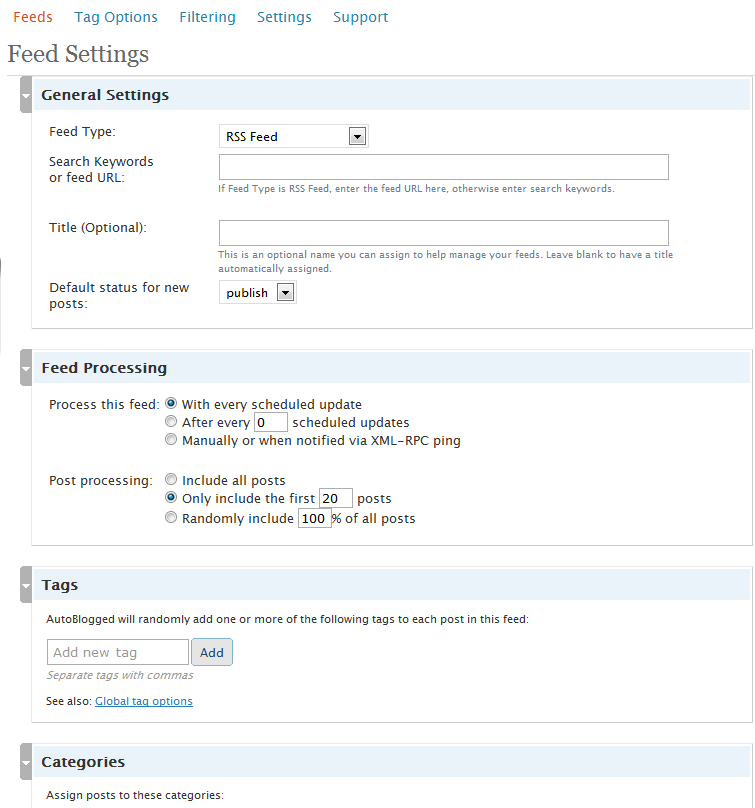 You also get to choose a different author name for each feed or choose a random author for each post. Now I don't recommend using multiple author names to deceive your users, but it is certainly possible. You can also post vidoes from YouTube to your blog, if you are running a video heavy Wordpres blog.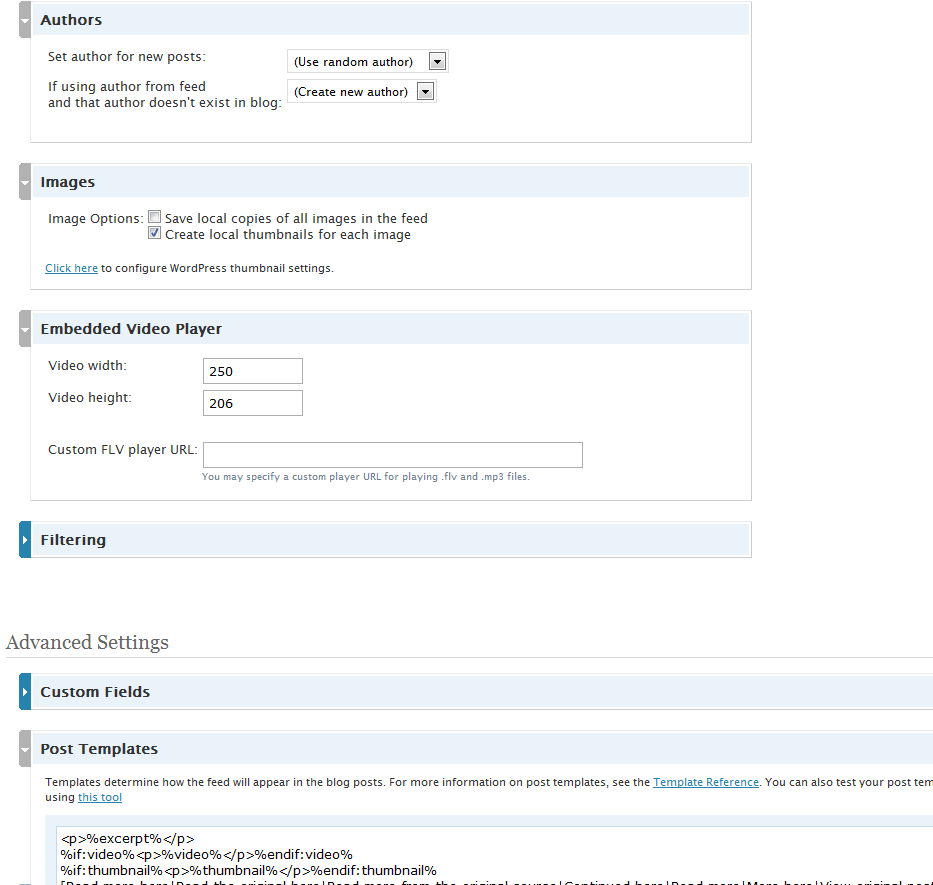 The template feature is my favorite. It simply sets this WordPress theme apart from any other I have seen. It's one thing to have the ability to import RSS to your blog. It's another to have the ability to actually modify each and every post and make them unique.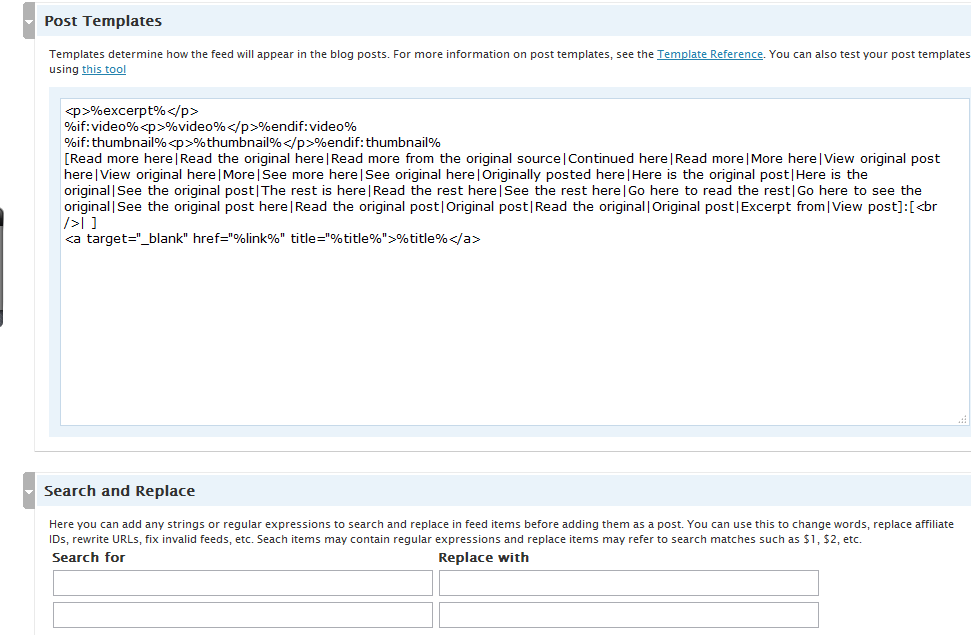 You can use the template to rotate sentences before and after each RSS post. In addition, you can define where you want the video/image to show up with each post. If you are a bit more advanced, you can use the built in regular expression search and replace feature to take the post optimization feature to the next level (keep in mind that the system automatically recognizes duplicate posts and avoids them. So you can import then RSS feeds from different sites, and just set it and forget it).
This plugin has been a life saver to me. I run over 35 blogs and unlike this one, a lot of them run on autopilot. It is certainly helpful for me to have the ability to automate some of my tasks without having to put hours of time researching for new posts. The price is affordable too. You can get the single server version for only $59. If you are really hardcore, you can get the developer version for only $129, which is a steal really.