Have you ever thought about running an auction from your WordPress site? I am going to be honest with you. I have and I have actually done that too. The problem with running an auction on eBay is that you end up paying a chunk of your hard earned money for them to host your auction page. With Wp Auctions Premium WordPress plug-in, you get the profit for yourself, 100% of it.
Wp Auctions plug-in comes with two types of auctions: 1. Sidebar auctions 2. Pop-up auctions.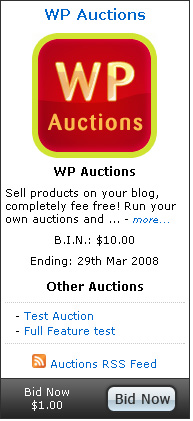 Wp Auctions' sidebar option allows you to run an auction right from your sidebar. You can also host multiple auctions on your side and provide an RSS feed for them. The auction template is very customizable and the sky is the limit as far as the changes that you can make to this page. You can set up a minimum bid, an end date, and all the good things that you can do on an auction on eBay.
In my opinion, the best feature about this plugin is the fact that you don't have to settle for a set of pre-determined designs for your sidebar widget. You can design and customize your widget to look exactly like a part of your theme. So your widget will not jumpt out or look out of place.
The pop-up widget a little bit more intrusive and I don't personally like using. But I have seen many bloggers use that, so it depends what your audience can tolerate on your WordPress site. You can also use it to show third-party ads, so depending on what you want to do with this widget, you can monetize your blog with banners ads and so on.
Wp-auctions is a very useful plug-in if you are into running auctions from your blog. It integrates well with WordPress and can be used to monetize blogs in more ways than one. I am still not sold on the idea of using this plug-in heavily, but as far as functionality, it is one of the best plug-ins out there. You can buy it for $24.99 which is not that expensive.
Verdict: 4 out of 5 stars. The plug-in is great and works with PayPal. However, I am not sold on the idea of traffic generation through this plug-in. But overall, this is a decent premium WordPress Plugin and it's not expensive at all. It's definitely worth a try if auctions are your thing.