So you spend hours putting up your WordPress blog and writing content for it. You put your best effort forward and create super useful content. But you don't get any comments. Sounds familiar? In reality, it's not really that hard to get folks to comment on your blog. But you need to find a way to get folks engaged. Some of us are more lazy than others. We read articles but don't like to take time to comment. In fact, a lot of folks find it pointless to leave a comment on other blogs. A lot of other folks don't leave comments on a post that has no comments on it already.
So why are comments important? It's simple. The more comments you get on your blog, the more confident you can be about your work. If people take time to leave comments and respond to others on your blog, it means you have done something right. The more comments you have on your blog, the more time people spend on your blog. And let's not forget that you don't have a community until someone has commented on your blog post.
WordPress Magnet is a simple plug-in that makes it very easy to get comments on your blog. Conceptually, it's very similar to Digg Bribe or StumbleUpon Bribe scripts on the market. I know bribing is not looked upon as an ethical tactic in the real world, but in the world of Internet marketing it is a must do especially if your blog is young. WordPress Magnet allows you to give away all kinds of things. The more content you giveaway in return for comments, the more momentum your blog gains.
Here is how you can get more comments on your blog with WordPress Magnet:
Give away your paid product
Offer a free ebook
Offer a free report
Discount on your paid products/services
Coupon codes
Gift certificates
Much more…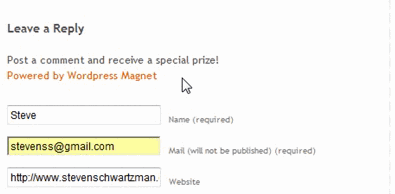 Once your readers leave a comment on your blog, they receive an e-mail containing the link to their prize. You can define multiple prizes if you prefer, and you get a chance to write your e-mail on the back-end.
Overall, WordPress Magnet is a very simple and easy-to-use plug-in that is designed to help you bribe your readers to comment on your blog. As long as you offer something of value to your readers, there is no limit to the number of comments you can get on your blog.