No matter how experienced you are in the world of the Internet, you should take time to learn about testing every aspect of your website. Not all themes are created equal. Some convert better than others. You can define conversion as almost anything. Maybe you just need more people to click on your Adsense ads. Or you would like to pick up a theme that promotes the affiliate products you have on your website more effectively. That's what A/B Theme Testing Plugin offers.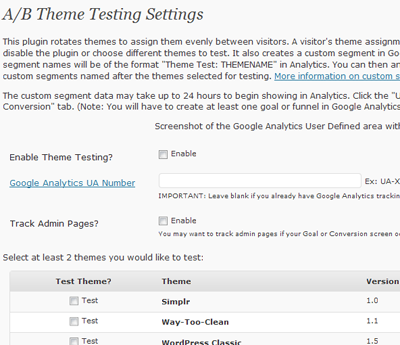 A/B Theme Testing Plugin is based on a simple concept but quite powerful at the same time. It rotates themes among your visitors evenly, allowing you to test multiple theme designs on your website and choose the best one for your website (based on the conversion rate or user feedback). It is compatible with analytics apps such as Google Analytics. You probably need to know how to read your Google Analytics data. Other than that, you can just add multiple themes to this plugin and see which one performs the best.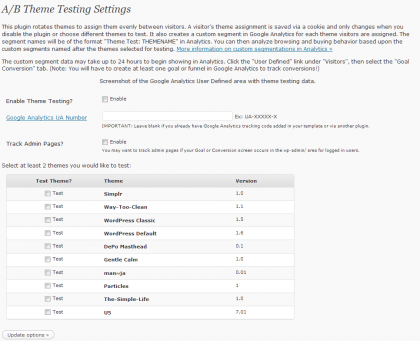 This plugin creates a custom segment for each theme you decide to test on your website. That way you can keep track of each theme's performance in Google Analytics. You won't need to be a WordPress genius to get this plugin to work. At the same time, you probably need basic knowledge of Google Analytics to get the most out of A/B Theme Testing Plugin. It is an awesome plugin to help you find the best theme for your website.