If you have heard of the term Web 2.0, you have probably heard of Digg. Digg is a social news site that allows folks to submit stories and get it rated by other community members. Digg.com allows you to submit videos, audio, and news. But what if you wanted your site to be rated by the community of tweeters? That's where tweetmeme comes in. It's a great a community for folks who tweet a lot. When someone tweets about your site, you're going to get a vote from her. The more your site is tweeted about, the more your score will be.

Tweetmeme plugin for WordPress makes it easy to add Twitter functionality to your WordPress site. Once you install tweetmeme, you are going to see the above button right under/above your posts. The nice thing about this button is that people can just click on link to retweet your posts and the content of the tweet is automatically created for them.
Tweetmeme is highly customizable too! You can define where you want your button to show up and the type of widget that you want to see under your posts. You can also choose to add your button to your pages and your RSS feed too.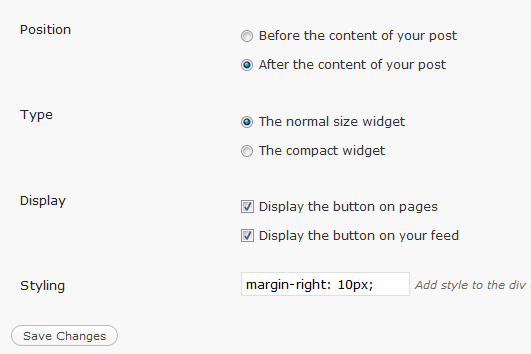 Once issue that I had with this plugin was dealing with images. If you start or end your posts with an image, your button is not going to show up properly. That's why only kept the margin line in the "Styling" section.
If you want to add Twitter functionality and voting to your WordPress, there is no faster way than installing tweetmeme on your blog.