By now, everyone should know about YouTube. YouTube has the largest collection of videos you can find anywhere on this planet. But it's more than a video library. Many super-bloggers have been using YouTube videos to not only drive traffic to their websites, but also convey more value to their readers. For long, people have been complaining about embedding YouTube videos in their blogs. There are many hacks out there that show you how to disable your WYSIWYG editor on WordPress to make the process of putting YouTube videos on your blog easier, but I rather stick with a good plug-in to do that.
Currently Trending Themes
YouTuber is a simple free plug-in that makes it so easy to embed YouTube videos into your WordPress blog. It's truly a set-it-and-forget-it solution for bloggers.You don't have to do any coding to get this plug-in to work, and you won't need to change any settings on your WordPress blog.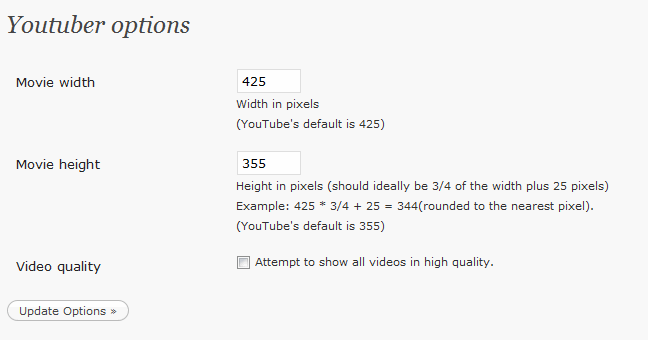 The URL format is very easy to follow. You won't have to copy the embed code from YouTube. All you do is copy the portion of the URL that comes after the ? sign. YouTuber will do the rest for you.

YouTuber is one of hundreds of plug-ins that help you embed video into your WordPress blog. Unfortunately, there are many plug-ins that don't do the job they promise to do. But YouTuber hasn't disappointed me in that regard.