There are plenty of bloggers out there who write new posts everyday. You can do that regardless of the niche you are involved in. But sometimes, you may have blog posts that are timeless. It never hurts to promote these posts and see how well they do on your front page. Maybe you have a weekly deal site and want to rotate your deals around to keep your site looking fresh without adding useless deals to accomplish the very same thing. That's why OldPostSpinner plugin is so handy. It's a cool script that lets you pick and choose the post that you want to promote and let the plugin take care of the rest.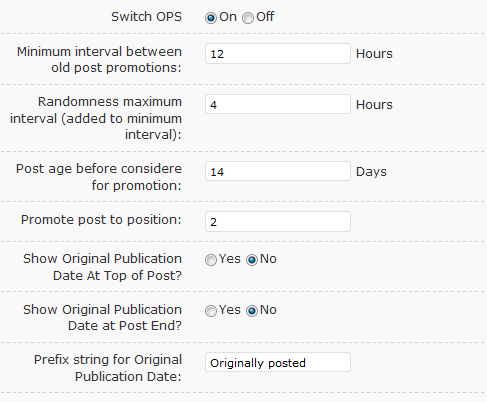 Here is how this plugin works. You determine your criteria for the posts you want to get promoted and the plugin will randomly choose from posts that fit your requirements. If you don't want to promote posts that are too old, you have got the option to take care of that. You don't necessarily have to move your post to the first position on your blog. The plugin lets you define the exact position. If you want to let your visitors know that they are seeing an old post, you can add the appropriate text next to your date using this plugin.

You also get the option to choose which categories you want your posts to be chosen from. You can always create a specific category for posts you want to consider for promotion in the future. That way, you won't have to deal with any major surprises on your blog. The log feature is nice too as it gives you the opportunity to keep track of things.
This plugin is not for everyone. It works better for certain types of websites. The good news is it's free, so you can test it out to see whether it works for you.